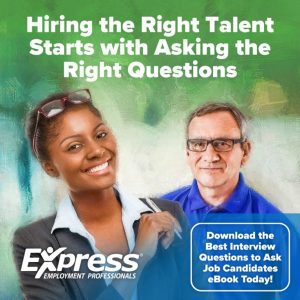 Creating a successful and productive team starts with finding great employees who fit your organizational culture. And while you may receive hundreds of job applications from interested parties, narrowing down the talent pool to hire the right candidate goes beyond what hiring managers can surmise by reading cover letters and resumes, especially when studies show 85% of applicants lie on their resumes. This is where the art of the interview comes into play.
Introducing the Best Interview Questions to Ask Job Candidates, from Express Employment Professionals.
From motivation to handling difficult questions to where they see themselves in five years, the Best Interview Questions to Ask Job Candidates ebook explores common interview questions to ask job candidates and what to look for in their answers.
Express Is Here to Help
Knowing which questions to ask is only part of the hiring equation. Interviewing job candidates—typically multiple rounds—vetting skills and qualifications, following up on references, and more, all take time out of your already busy schedule. Why not let Express take some of the work of hiring your next employee off your plate?
Our ISO-registered selection process helps us not only find the right fit for the job description, but also your company culture. Before you ever meet them, every Express associate goes through our comprehensive evaluation process, including:
Applicant information verification
Interview
Skills evaluation
Employment verification
Hiring decision
Matching and assignment to meet clients' needs